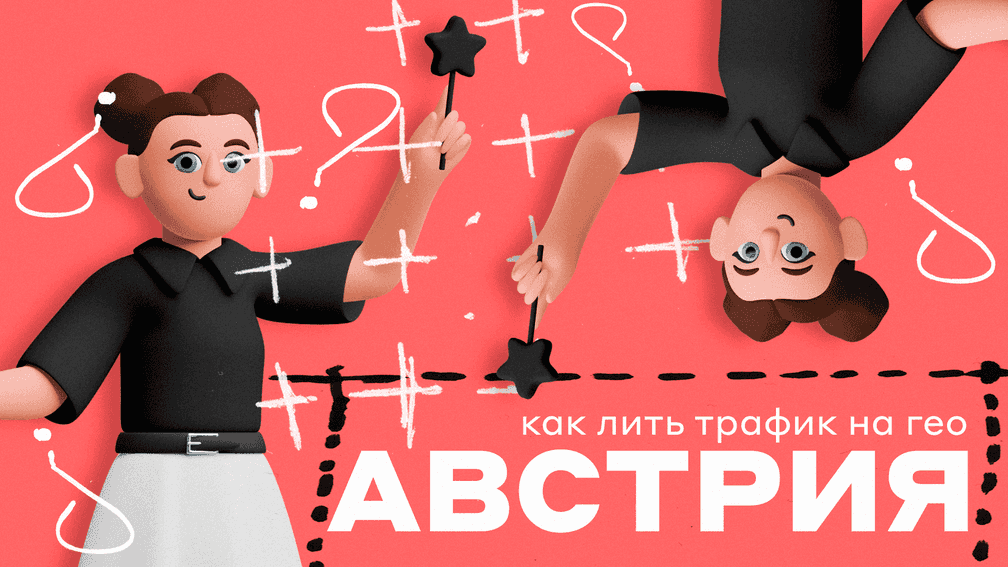 How to generate traffic for GEO: Austria
This country in the heart of Europe is famous for many things: sports success, history and art, economics. It is not very rich in population and resources but has succeeded in other important things. Austria is in today's GEO review on Trafflab!
Introduction
Austria is a small, relatively inconspicuous country in Central Europe. However, It has not been always like this: the country was a participant (and sometimes initiator) of many wars since ancient times, defended its own borders and contested foreign territories, joined conflicts. Once it even was among the greatest empires.
This geo is landlocked but has borders with half of Europe. Its land neighbors are:
Germany
Switzerland
Liechtenstein
Slovenia
Czech Republic
Slovakia
Hungary
Italy
 It is unlikely that anyone has heard of Austrian cities, except for locals and tourists (there are lots of them here). We say 'cities', but actually there are more towns and villages with a population of 1 to 15 thousand people here.
Major cities by traffic:
Vienna (capital) – 1.9 mln
Graz – 290 thousand
Linz – 200 thousand
Salzburg – 160 thousand
Innsbruck – 130 thousand
Total population of Austria is about 9 mln people. This is very little compared with nearby geos. However, the standard of living and the economy of local governments are an example for the same neighbors to follow: the average age here is 43 (which is quite good – the population is old, but wealthy), and life expectancy is approximately 80 for both genders. The division into men and women is approximately equal.
The geo is a typical tier-1 representative for a marketer who knows how to generate traffic. Good conditions, no external conflicts, gradual technology development, environment, education, profitable alliances, location, the cream of society – a picture-perfect life! Such traffic is highly valued by gambling advertisers.
Advantages of Austria's geo:
A high level of all social benefits: education, medicine, sports, housing, citizenship
Cooperation with the strongest economies in the world
Main income for the state is generated by the service sector.
Austria is part of the European Union, so Euro is the geo's currency.
Internet and communication
Giants in terms of traffic, such as Google, YouTube, Facebook, Amazon, and Wikipedia, are in the top, along with local popular websites, such as:
Orf (movies)
Krone (news)
Pornhub (18+)
Willhaben (marketplace)
Derstandard (travel)
Heute (news)
The average speed of mobile Internet is 50 Mbps, which is quite fast. 90%+ of the population uses the Internet. Speaking of population, hardly 65% of them live in cities. However, the communications infrastructure is deployed across all Austria.
A1, T-mobile, and 3 Drei Austria are popular mobile operators. ING, Revolut, Bank Austria, Quick, Sofort, PayPal, Direct debit, and EPS are popular payment systems. Internet traffic is relatively inexpensive.
 Features of the population
An average Austrian citizen earns €2,500+ per month. This is fairly enough for rent, food, and accommodation. Still, there are lots of opportunities for growth: loyal conditions for business, technical progress, and allied conditions make Austria attractive for relocation.
Education costs on average $1,500 per year (state universities). A total of nearly 290 thousand students study in Austria. About 20% of them are foreigners. The attitude to migrants is not too respectful, but still tolerant and loyal.
The national language of the geo is Austrian. However, German is more in use here, because they are a continuation of each other. More than 5 dialects are used in the neighboring lands, and sometimes a language dispute can even cause a serious conflict, though this is still an exception. German is often used in educational institutions, local food service outlets, and other service industries.
Austria is rich in culture on all levels: architecture with a thousand-year history, dozens of national meals, traditions, holidays and their celebration – they all attract millions of tourist traffic and make up about 10% of the annual budget.
While on the subject of migrants and visitors, there are almost 2 mln foreign citizens in Austria, who came for various reasons and pretexts: officially and illegally, for work and to spend money. Such traffic comes from the east, from the west, and from the south. Locals treat migrants with reconciliation, but sometimes conflicts arise.
The Austrians are one of the nations that is little known. Everyone just knows that there is such a country somewhere in Europe, and that's it. We will try to dispel the fog and emphasize the traits, behaviors, and preferences characteristic of the population:
Sports. Both national teams in the international arena and local teams demonstrate positive results and a spectacular game. Most of the population is actively engaged in physical activity both outside and in the gym. Health is also not in last place: Austria has an excellent medicine infrastructure, and citizens can choose between local and foreign treatment.
Family, work, balance of human resources – they are making efforts to maintain a standard close to utopian in many ways. The geo is not just in the first basket, but also leads in terms of living standards worldwide.
Environment and its protection.
Interest in politics. The country features one of the highest voting turnout in elections of any level, as well as one of the lowest levels of corruption in the world.
Atmosphere. Most of the districts, cities, and small villages are a separate world. Architecture, monuments, and museums all form the culture of behavior, influences everyday life and habits, traditions, and pastime .
At the same time, the geo cannot be called underdeveloped or lagging behind: technology and science are in constant development, the country actively interacts with European, Asian, and American partners. 
What about arbitrage and gambling? Everything is fine: iGaming is legalized by the state, it is regulated by the government and local authorities. The share of traffic grows, and given the average age (40+), a conclusion can be made that the audience has excellent solvency. 
Approaches
Given the interests of the local audience, we can form an approximate benchmark for funnel generating and driving traffic from geo.
The approaches are relatively simple:
Austrian or German language
Emphasis on health, sports, family, social benefits, environment – anything close to the perfect
Age target is 18–50.
If you work with legal products, you can approach with the feature of replenishment from convenient local payment systems.
National elements: logos of sports clubs, monuments, city associations, etc.
Emotions
The locals have money they can afford to lose. They have u an adequate understanding of gambling: most people perceive it as an opportunity to relax and get emotions, rather to than earn money (which is common in the CIS and Asian geos).
Conclusion
Austria is a typical representative of tier-1. The geo is popular among all the top online casinos, and the competition in the arbitrage market is relatively low, just because few people know about such a country. Big mistake! Trafflab has a lot of exciting products to offer with $120+ payout per lead!
 We will help you generate gambling traffic from AU, provide recommendations for funnels and creatives, and create the necessary offers for you, if necessary! Contact the @trafflab_cpa support, agree on individual conditions, and generate with Trafflab!
14.02.2023